Posts for: January, 2015
By Moon Family & Cosmetic Dental
January 29, 2015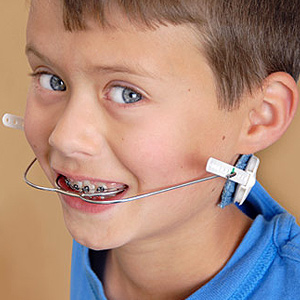 Most of us are quite familiar with what traditional braces look like. But occasionally we see more complex-looking devices being worn by young orthodontic patients: thicker wires that extend outside the mouth, with straps that may go behind the neck or over the chin. What are these devices, and why are they sometimes needed?
In general, orthodontic appliances with external parts braced by the head, neck or chin are referred to as "headgear." These devices may be used to handle a number of particular orthodontic situations, but they all have one thing in common: They provide the additional anchorage needed to move teeth into better positions.
It may come as a surprise that teeth, which seem so solid, can actually be moved fairly easily over time. This is because teeth are not fixed directly into bone, but are instead held in place by a hammock-like structure called the periodontal ligament. Using a light, controlled force — such as the force of springy wires and elastics in traditional braces — teeth can be moved slowly through the jaw bone, like a stick being pulled through sand.
Of course, to pull a stick through sand, you need a firm anchorage — your legs, for example, bracing against a rock. Most of the time, the back teeth, with their large, multiple roots, provide plenty of support. But sometimes, the back teeth alone aren't enough to do the job.
If a very large space between teeth is being closed, for example, the back teeth might be pulled forward as the front teeth are pulled back; this could result in poor alignment and bite problems. In other cases, the front teeth may need to be pulled forward instead of back. The back teeth can't help here; this is a job for headgear.
Some types of headgear have a strap that goes behind the head or neck; they use the entire head as an anchorage. Other types, called "reverse pull" headgear, have a strap that comes over the chin or the forehead; they can pull teeth forward. Headgear can even influence the proper growth of facial structures — that's why it is usually seen on preteens, whose growth isn't yet complete.
Headgear is usually worn for 12 hours per day, for a limited period of time. In some cases, rather than headgear, appliances called "temporary anchorage devices" (TADS) may be recommended. These are tiny screws that are implanted into the jawbone in a minimally invasive procedure, and serve a similar function.
While it may not look pretty, orthodontic headgear is capable of moving teeth into their proper positions in a relatively short period of time — and ending up with a great-looking smile is what orthodontics is all about.
If you have questions about orthodontic headgear, please call our office to schedule a consultation. You can read more in the Dear Doctor magazine article "Moving Teeth With Orthodontics."
By Moon Family & Cosmetic Dental
January 14, 2015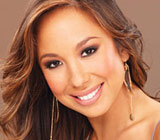 Growing up with a dentist stepdad, Cheryl Burke of Dancing with the Stars heard a lot over the years about the importance of good oral hygiene — in particular, the benefits of using dental floss.
"My dad would say, 'make sure you floss,' but I never really listened to him. I was very, very stubborn," Cheryl told Dear Doctor magazine recently in an exclusive interview. Cheryl admits this stubbornness took its toll, in the form of tooth decay. "I definitely had my share of cavities," Cheryl recalled.
Cavities can form when food particles, particularly sugar and carbohydrates, are not effectively cleaned from the spaces between teeth. These particles are then broken down by bacteria naturally present in the mouth, resulting in the production of acids that attack the tooth enamel.
When she reached her twenties, Cheryl decided she really needed to step up her oral hygiene and cultivate an asset so important to a professional dancer: a beautiful smile. And once she did, cavities became a distant memory.
"I think when you do floss frequently, it helps to reduce the chances of getting cavities," Cheryl said. "It took me a while to figure it out." Now Cheryl flosses after every meal. "I carry floss with me wherever I go. I have no shame busting out my floss in the middle of a restaurant!" She declared.
Dental decay is actually a worldwide epidemic, especially among kids. Untreated, it can lead to pain, tooth loss, and, because it is an infectious disease, it may even have more serious systemic (whole body) health consequences. The good thing is that it is entirely preventable through good oral hygiene at home and regular professional cleanings here at the office.
If it has been a while since you or your children have seen us for a cleaning and check-up, or you just want to learn more about preventing tooth decay, please contact us to schedule an appointment for a consultation. If you would like to read Dear Doctor's entire interview with Cheryl Burke, please see "Cheryl Burke." Dear Doctor also has more on "Tooth Decay: The World's Oldest & Most Widespread Disease."